The drawings of fifteen children, five from each age group, were selected from nearly one-hundred entries as the top designs of our tenth-annual Tucson Birthday Stamp Design Contest.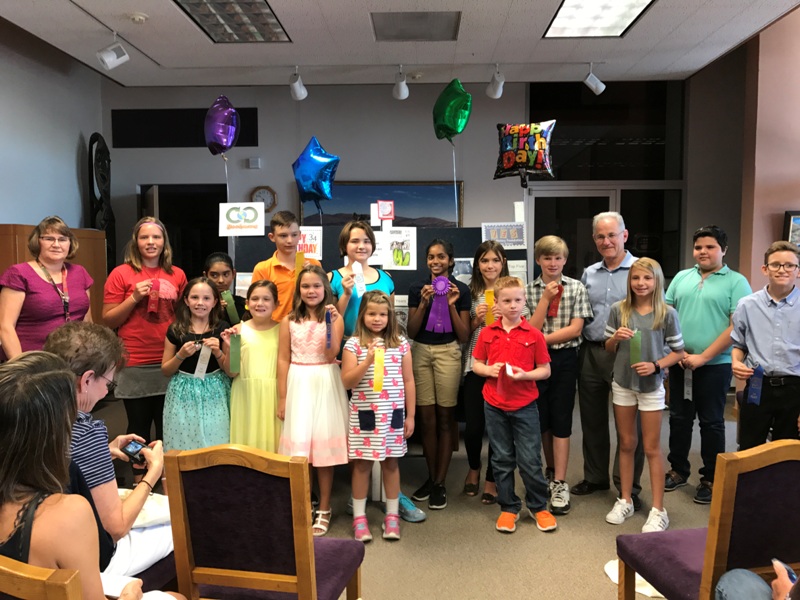 The top five winners from three age groups were given awards and prizes today at the ceremony. Every student was given a Bookmans gift certificate (donated by Bookmans), collectible stamps, and other prizes that were selected to match each child's interests.
In addition, two designs from each age group were selected and printed as collectible art work on envelopes ("cachets"). Visit our main contest page to see the cachets and learn how to purchase them (proceeds to benefit our Youth Education Thru Stamps (YES) program.
The top fifteen winners will be on exhibit at the Postal History Foundation until the 2018 Awards ceremony next year. Thanks to all who entered, and congratulations to our top fifteen designers!
*  denotes a cachet winner; ** denotes Grand Prize Winner
Colin Lee*, age group 13-17

Nataly Islas*, age group 13-17

Natassja White, age group 13-17

Amara De Boer, age group 13-17

Tanvi Narendran**,, age group 13-17

Ava Warner, age group 13-17

Jillian Stochowski, age group 9-12

Jesus David Acosta Quyada, age group 9-12

Maximus Rose*, age group 9-12

Lee MacDonald*, age group 9-12

Embry Vilchis*, age group 5-8

Mikayla Dehler, age group 5-8

Alora Burt, age group 5-8

Todd "TJ" Johnson, age group 5-8

Addison Sharpe*, age group 5-8