Congratulations, Serena Hsu, grand prize winner of our 11th annual Tucson Birthday Stamp Design Contest!
Ms. Hsu was inspired by a visit to Barrio Viejo. She used colored pencils to create a lovely vignette with a red door, potted cacti, and traditional decoration known as sarta de chiles in Tucson.
Says Ms. Hsu,

We do, too!
While Ms. Hsu was our grand prize winner, we don't want to leave out the other 14 winners. Five kids in three age categories were honored and awarded prizes for their designs.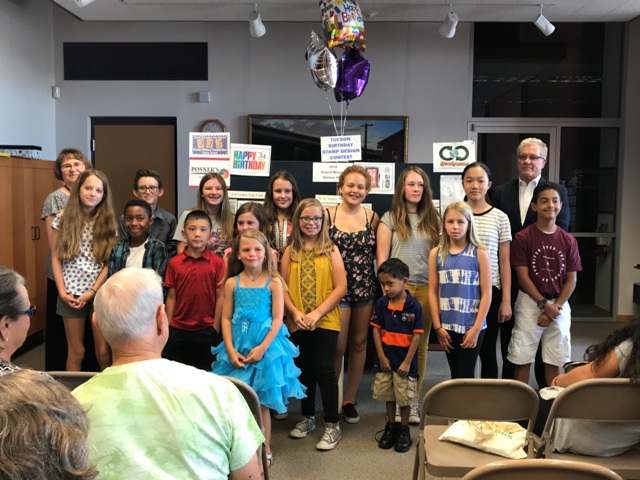 The fifteen winners of 2018 are: (ages 5-8) Leah Andrews, Roshan Gupta*, Jade Goslin, Lincoln Manuel*, Lucas Kresha; (ages 9-12) Nola Gelling*, Marc Perez*, Maylee McCool, Audrey Fiore, Leeah Payne; (ages 13-17) Serena Hsu, Katherine Douglas*, Jada Love, Lee MacDonald, Kaelyn Hestand*. Also pictured: special guest Don Regole (who designed the pictorial postmark) and Education Director Lisa Dembowski. (* means that child's design was selected as envelope artwork.)
All fifteen winning designs will be on exhibit at the Postal History Foundation until the 2019 Awards ceremony next year. They are also part of our online gallery.
To order custom postage stamps with this design and envelopes with some of the other kids' designs, click here.
To view the press release of this event, click here.