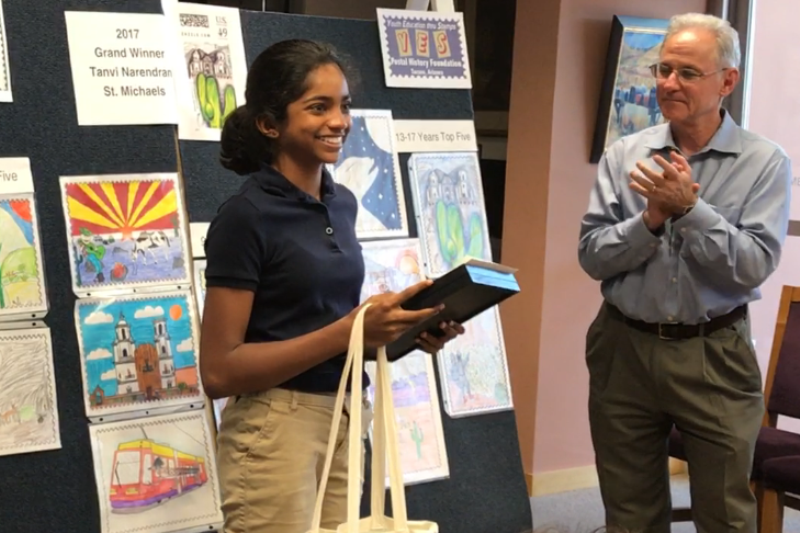 Congratulations to winner Tanvi Narendran, age 13, an 8th grader who attends St. Michael's school. She is our 2017 Grand Prize Winner of the 10th Annual Tucson Birthday Stamp Design Contest. Tucson Mayor Rothschild helped to unveil the stamp and present Tanvi with her prizes, including an official Tucson coin usually reserved for diplomats. The stamps are legal custom USPS stamps and can be used for mailing letters. Mayor Rothschild gave every finalist a Tucson sticker and a flag pen.
Ms. Narendran used colored pencils to create her unique picture of a beautiful green saguaro with a very detailed sketch of the historic Mission San Xavier del Bac in the distance. Every year a student enters something new and original that catches the eye of the judges. Tanvi felt that the San Xavier Mission was a great representation of Tucson and she knew that if she added something in the foreground it would add depth to the picture.
Like we read books, like we listen to music, we can read stamps. — Mayor Jonathan Rothschild
Before unveiling Tanvi's winning design, Mayor Jonathan Rothschild acknowledged the important role stamps play in our lives. "Our stamp history… is really a history of the united States… a history of the world. You can use those stamps really to tell a story and learn history. Like we read books, like we listen to music, we can read stamps." He also pointed out that all of the designs in all age groups capture something special about Tucson.
Stamps can be purchased or ordered from the Postal History Foundation, proceeds to benefit our youth education program. Click here to order stamps featuring Tanvi's design.
Video of the unveiling of Tanvi's stamp design, including a few words by the mayor about the importance of postage stamps:
Grand winning entries through the years:
2017, Tanvi Narendran

2017, Tanvi Narendran

2016, Roark Polzin

2016, Roark Polzin

2015, Joshua Baca

2015, Joshua Baca

2014, Jillian Stochowski

2014, Jillian Stochowski

2013, Sierra Miller

2013, Sierra Miller

2012, Lorenzo Corza

2012, Lorenzo Corza

2011, Ryan Bridges

2011, Ryan Bridges

2010, Rene Junius

2009, Parrish Ballenger