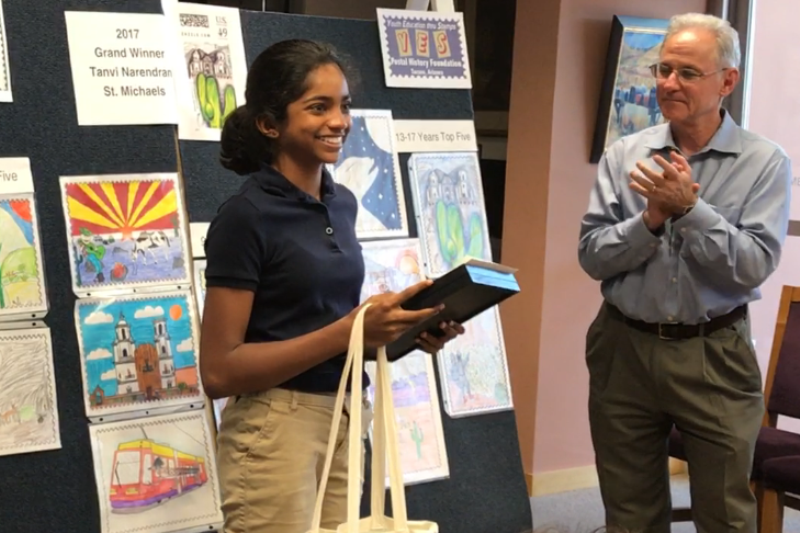 Congratulations to winner Tanvi Narendran, age 13, an 8th grader who attends St. Michael's school. She is our 2017 Grand Prize Winner of the 10th Annual Tucson Birthday Stamp Design Contest. Tucson Mayor Rothschild helped to unveil the stamp and present Tanvi with her prizes, including an official Tucson coin usually reserved for diplomats. The stamps are legal custom USPS stamps and can be used for mailing letters. Mayor Rothschild gave every finalist a Tucson sticker and a flag pen.
Ms. Narendran used colored pencils to create her unique picture of a beautiful green saguaro with a very detailed sketch of the historic Mission San Xavier del Bac in the distance. Every year a student enters something new and original that catches the eye of the judges. Tanvi said she felt "the San Xavier Mission was a great representation of Tucson and she knew that if she added something in the foreground it would add depth to the picture."
Stamps can be purchased or ordered from the Postal History Foundation, proceeds to benefit our youth education program.
The top five winners from three age groups were given awards and prizes today at the ceremony.  Every student was given a Bookmans gift certificate (donated by Bookmans), collectable stamps, and other prizes.
OTHER WINNERS: In addition, two designs from each age group were selected and printed as collectible art work on envelopes used for mail. Cachet winners are as follows per age group. Age 5-8: Addison Sharpe and Embry Vilchis, both from Tanque Verde Elementary.  Age 9-12: Lee MacDonald and Maximus Rose, both are home schooled. Age 13-17: Nataly Islas of Salpointe High School and Colin Lee of Leman Academy of Excellence.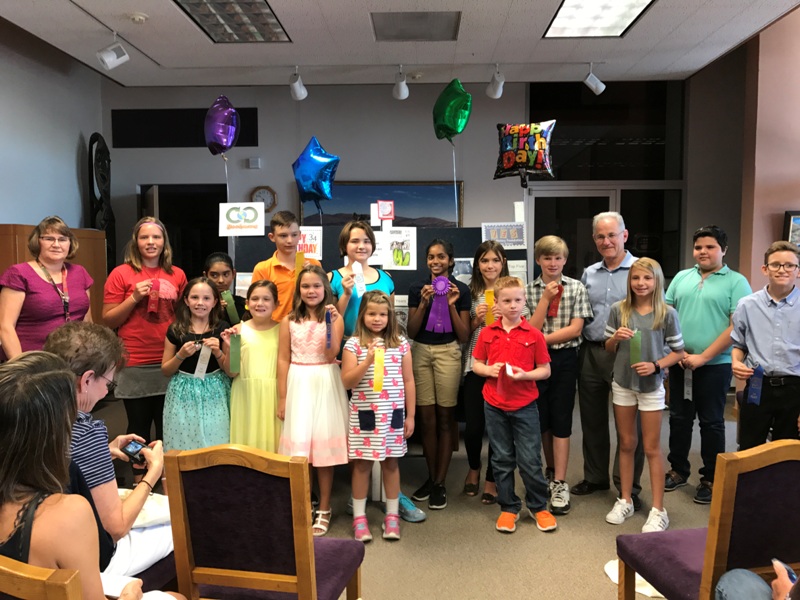 SALES OF STAMPS AND COLLECTIBLE ENVELOPES BENEFIT THE YOUTH PROGRAM at the PHF: The cost is $1.50 per stamp, the proceeds to benefit the Youth Education Thru Stamps (YES) program at the Postal History Foundation which supports teachers and students locally and across the country with lessons and stamps for classroom use. Collectible envelopes can be purchased for .50¢ per envelope.
To order stamps and cachets drop by the Postal History Foundation.  Hours  M-F 8am – 3pm or contact Lisa Dembowski, Education Director, at 520-623-6652 x 102 to order over the phone or email her at education@phftucson.org . Order forms are on line at www.postalhistoryfoundation.org
The top fifteen winners will be on exhibit at the Postal History Foundation until the 2018 Awards ceremony next year.
Thanks to sponsor Bookman's Entertainment Exchange for providing prizes.