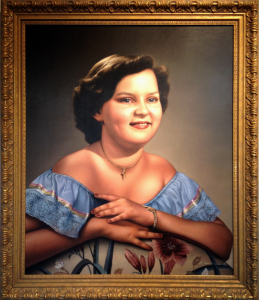 A Steadfast Heart
He sees each fledgling sparrow fall,
He knows small broken wings.
He hears each anguished, plaintive call
Of tiny broken wings…
He knows each lonely crippled child
Who bravely laughs and sings,
Who longs to run and romp in fields
And know glad joy it brings.
This was among several practice calligraphy sheets found among the papers of Peggy Jean Slusser, the namesake of the Postal History Foundation's philatelic research library.  Visitors often ask, who was Peggy Slusser? They want to know why the building is named after her.
There are many ways to answer this question. Blaine and Bessie Slusser were very generous people. Their daughter Peggy, who preceded them in death, was a stamp collector. There were no other children to leave their money to.
While all of that is true, the crux of the answer really is that Blaine and Bessie Slusser deeply loved their daughter, Peggy.
The library building represents the generosity of the Slussers and their love for their daughter. The work done in the library reflects the interests and character of Peggy.
Peggy was a bright, active person, curious and determined. We can look at the expression on her face in this painting that she was a kind, cheerful person as well. She suffered from arthritis her entire life. Her death at age 51 was sudden, and unexpected.
Peggy's tombstone is very personal. Its shape is a heart, and on it are etched roses and a little animal, probably a beloved pet. Blaine and Bessie are buried adjacent to her. Their own grave marker has a picture of wedding bands, and points out Bessie as wife, Blaine as husband. It's clear that they were a loving and close family.
The Slussers were originally from Kansas. The three of them moved here in 1959 to improve Peggy's quality of life. So much of what Blaine and Bessie did was for Peggy.
And that continued after she left them. They could no longer give to her, but they could give in her name.
The archival collection containing some of Peggy's materials contain practice calligraphy sheets with poetry, aphorisms, passages from books about her favorite topic, the Civil War, names—her name, her father's name, her mother's name, the names of Civil War generals—and rows and rows of letters of the alphabet, each stroke showing a passion for the art, and a determination to master it, that transcends the years that have passed since her pen touched the paper.
The items in Peggy's collection also tell the story of a woman who was deeply interested in people. She corresponded with pen pals in Iran, Ghana, East Germany, and Egypt. She sent mail to American prisoners of war in Hanoi, Vietnam. She saved newspaper clippings about her family, especially her paternal grandmother's people, the Moores.
Those who knew Peggy describe her as intelligent, curious, and kind. It is fitting, then, that a library should carry her legacy. The Slusser Library serves people from all over the world with their own keen interests in a variety of philatelic and Civil War topics. These people are served, and this library exists, because of the generous gift of Blaine and Bessie Slusser, in memory of their only daughter, who died at fifty years old. Everything she loved about life, however, continues at the Peggy J. Slusser Memorial Philatelic Library.
I've dreamed many dreams that never came true
I've seen them vanish at dawn.
But I've realized enough of my dreams, Thank God,
To make me want to dream on.