---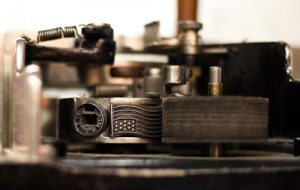 Permanent display; on view in main building.
Take a step back in time and visit an old post office from the turn-of-the-century old west. The 1895 post office front from Naco, Arizona houses vintage post office equipment and offers a peek into mail delivery operations from over 100 years ago!
---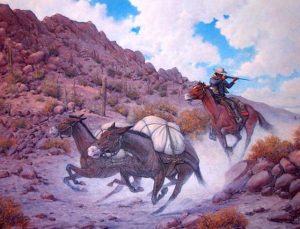 HAZARDS OF MAIL DELIVERY IN EARLY ARIZONA
Permanent display; on view in Slusser Library.
Five paintings by artist Cal Peters depict the dangers of early mail delivery, some of which are based on specific historical events. Staff at the Foundation are working on updated labels that provide more context of the events and people depicted. (This does not affect the viewing of the paintings.)
---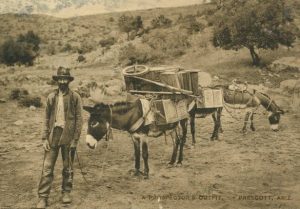 PROSPECTORS & POSTMEN: MAIL DELIVERY IN THE BOOM DAYS OF MINING
On view in Slusser Library January 15-May31, 2018.
The exhibit presents photographs, contemporaneous mail, and other documents to tell the story of early mail and freight transportation methods, with particular emphasis on Arizona. The exhibit includes information on the Colorado River steamboats, pack animals, wagons, coaches, buckboards, and "pony express" style horseback mail delivery.
---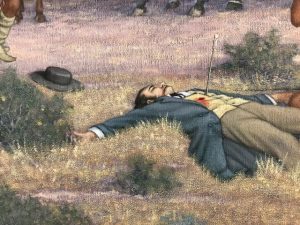 THE WICKENBURG MURDER MYSTERY
On view in Slusser Library from June 11-November 30, 2018.
On November 5, 1871, the stage from Prescott to San Francisco was ambushed just outside Wickenburg. Six people were killed in the attack; two escaped. Anglos from Prescott were blamed; Mexicans from Sonora were blamed; Yavapai from the Date Creek reservation were blamed. Who really did it? The upcoming exhibit will explore the nearly 150-year-old mystery and examine the depiction of the event on one of the Cal Peters paintings that are on permanent display in the Slusser Library .
---